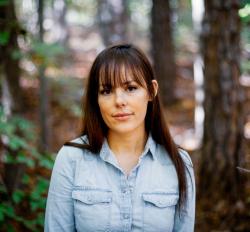 Pilar Timpane (top) and Christine Delp (bottom), directors of the documentary film, Santuario, discuss the sanctuary movement's significance on their work and one North Carolina woman's sacrifice to fight deportation.

What inspired you to make this film?
CHRISTINE: I grew up in the church, and faith has been an important part of my life. After seeing Juana's story on the news, I felt called to tell a different kind of immigration story—a story about a faith community taking a stand against families being torn apart. I thought this was the kind of story that might challenge some Christians' narratives about what family values really mean. And so I reached out to Pilar, whom I had worked with before and who has a great deal of experience telling both immigration and faith stories. After meeting and spending some time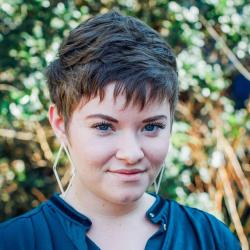 with Juana, we both agreed that her story deserved to be told in greater depth than a short news piece.
PILAR: In 2017, non-criminal deportation cases rose; people who had been hitherto allowed to stay in the US while working and checking in with Immigration and Customs Enforcement (ICE) were suddenly under higher alert for threat of removal. The Trump administration rescinded a memo on prosecutorial discretion, a practice that had essentially limited non-"criminal" deportations. With this change, ICE was given much more freedom to execute removals with much less discretion. However, a previous ICE memo on sensitive locations created the boundaries of sanctuary as a safe-space practice. Seeking to create hospitality for families threatened by deportations, churches and people of faith began to welcome people more frequently into sanctuary, whereby a person leaves their home and enters the church with an intent to wait out their case in court and hopefully receive a stay of deportation. Sanctuary in North Carolina really began with Juana Luz Tobar Ortega at St. Barnabas Church in Greensboro, NC, and many others have followed. She remains there today, 2 years later.
What makes this a Southern story?
PILAR: When Christine Delp and I learned about this story, we felt it would be an important one to tell, both of a family seeking to protect their parent from threat of deportation, and of a church in a "red state" opening their doors to an undocumented woman in sanctuary as an action of everyday resistance. Both of us have experience doing documentary storytelling in church environments, and I have also worked on stories surrounding immigration and speak Spanish. What struck us about Juana and her story was their commitment to staying here with her family at all costs. She and her husband Carlos have lived and worked in North Carolina over 25 years. Juana was a seamstress in High Point for many years. Her two children were born here and attend school here, and two of her daughters born in Guatemala now live here and have been raising their families in the Asheboro area. This is a Southern story because it is a story of the people of North Carolina, people who are both immigrant, Latin American, citizens and undocumented, taxpayers, workers, and people of faith, living in community and trying to figure out how to stick together in a complicated immigration landscape. To me, it's also a story of Southern Christian "hospitality" and the creation of space for people to live and flourish. In many ways, it's a story about what "home" really means, and how for all of us family is really the home where we want to be.
CHRISTINE: The South is an incredibly diverse community of people. We hope to challenge narratives about the South with this story, both about white Southern Christians and about Southern Latinx immigrant communities. Many different kinds of people are Southern, and many different kinds of people do radical political action in the South.

What were the challenges and blessings in making this movie?
CHRISTINE: The biggest challenge for this story was not knowing the ending. We never knew if Juana would be able to leave sanctuary or not, and so we had to prepare for any kind of ending. We hoped it would be a happy ending, that she would be able to go home to her family. It unfortunately, was not, and Juana is still in sanctuary after nearly two years. The blessings in making this story was working with a nearly all-female filmmaker team and telling a story about an incredible brave and faithful woman.
PILAR: The biggest challenges to making this film came in the form of time and also working with our friends' experience with sanctuary. We had to work full time jobs and also were producing the film, traveling there often in the late afternoons and on weekends, shooting in low light and under the fluorescent bulbs of a church fellowship hall. At the same time, this was also a very tumultuous and traumatic moment in this family's life. There were no easy answers, and sanctuary is a difficult situation for all involved - emotionally, financially, all of it. We sought the advice of people who had been through the immigrant experience and reached out to impact producers to learn more about doing the work of being with this family while also making a film we hoped an audience would watch and respond to in kind. It's an extremely delicate process to ask people to share in a difficult moment in their lives, and the Tobar Ortega family was very giving and we wanted to make sure to protect their story and dignity at all costs. This relationship was also the greatest blessing of the film. Getting to know Juana and her family, especially her daughters who have traveled with us to festivals and been an important part of our outreach, is by far the greatest thing we get to take away from the experience.

How did the story change you?
PILAR: As a mother, I cannot imagine the decision of having to choose between leaving the country where my entire family lives permanently or having to take sanctuary at a small church 50 miles away from my household. As a daughter, I struggle to understand how hard it is to think that your parent could be taken from your family by authorities in a country where you have freedom to live and work—but she does not. Walking with Juana and her experience for two years has led me to see what it is like to truly have no other options. To be able to be with your children in some capacity, I think all of us would choose that option. Sanctuary was that last resort for Juana. I think this story has been a wake up call to me that we have to make space to center stories of women like Juana and her daughters; people who are living in fear that their whole lives can change instantaneously at the drop of a hat on the basis of flimsy lawmaking; people who are standing up for their rights in a world that is trying to keep them separated from their families. Beyond that, Juana and her family need a path out of sanctuary at this point. I want to see them get that path.
What do you hope will happen after people see this story?
CHRISTINE: I hope people will become advocates for our friends and neighbors facing deportation and those in sanctuary, calling on lawmakers to intervene on their behalf and pass comprehensive immigration reform that works for these families.
PILAR:We hope that when people view this film they will consider what it is really like for a family member, your own mother, to go through this. Close to Mother's Day, we hope the ReelSouth broadcast of Santuario will invite viewers into a conversation about deportation as family separation. What would you do if your mother was separated from your home by an unjust law? For some, taking sanctuary is the last remaining option. Our website has a whole page of resources we have been building over two years in conjunction with the sanctuary movement around the country https://santuariofilm.com/resources. We encourage people to write lawmakers and get involved with asking the North Carolina congress and our senators to create a path for citizenship for Juana and others in sanctuary. They have waited long enough and it's time. We want to see Juana go home to her family. We are thrilled to share her story of resilience and a faith community's everyday act of resistance with others.
Category
Share