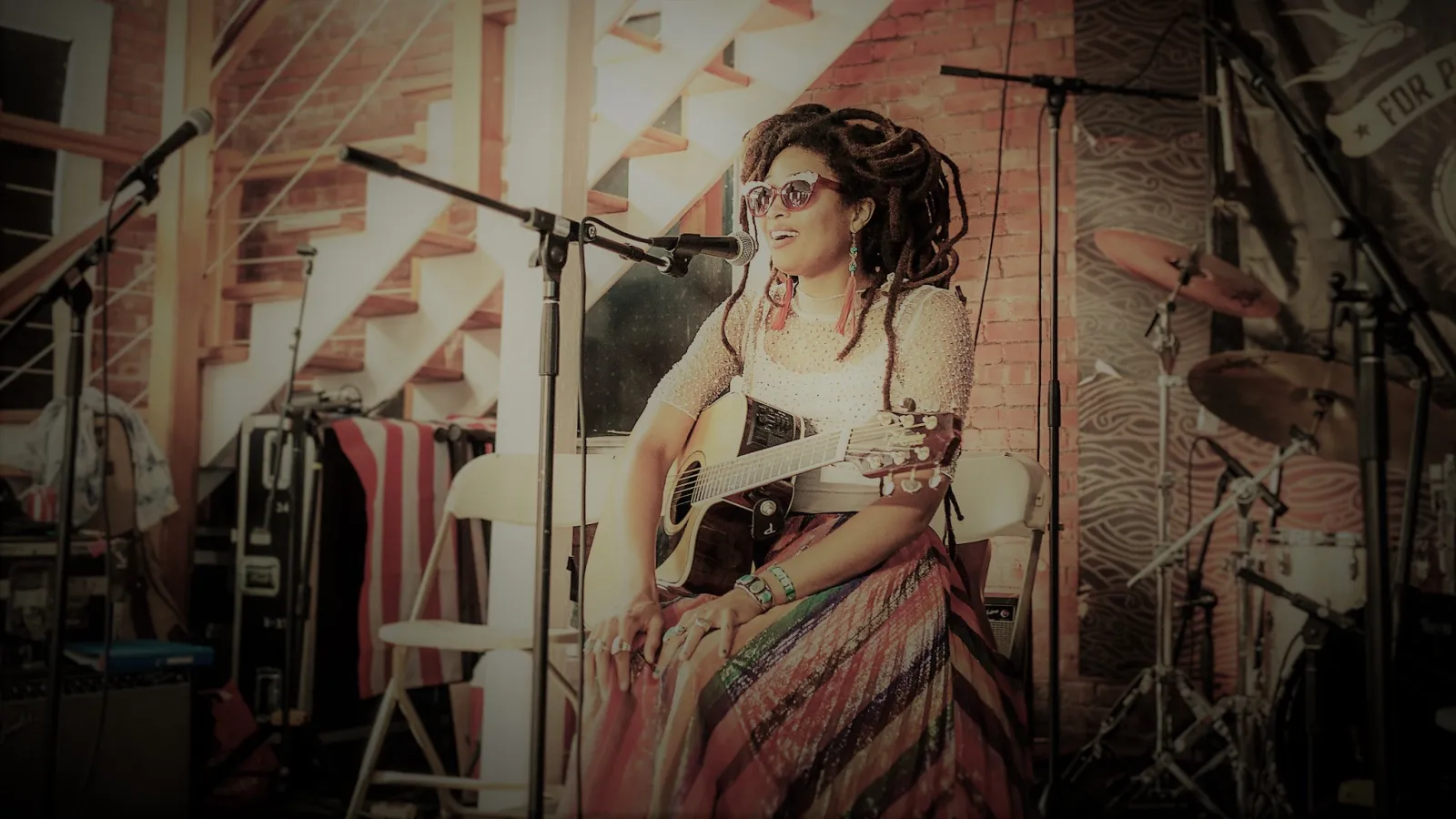 REEL SOUTH Sets Season Four With More Films, New Host
Mar 12, 2019
Premiering April 11, Valerie June Hosts New Season of Southern Documentary Series
RESEARCH TRIANGLE PARK, NC, March 12, 2019 — UNC-TV Public Media North Carolina and South Carolina ETV announced today that their critically acclaimed coproduction REEL SOUTH will launch its riveting fourth season Thursday, April 11, available on PBS stations (check local listings).  
This curated documentary series that supports independent filmmakers telling stories of the American South returns with nine new independent films, a new distributor—PBS Plus—and a new host, Memphis, Tennessee's Americana star Valerie June. Additionally, UNC-TV recently received notice of a National Endowment for the Arts Art Works grant of $25,000 to support its coproduction of REEL SOUTH.
 Steeped in Southern storytelling while often shattering Southern stereotypes, REEL SOUTH returns for another remarkable season of filmmaking resounding with powerful stories ranging in theme and geography. Grammy®-nominated Two Trains Runnin', featuring musical performances by Gary Clark Jr., Lucinda Williams and REEL SOUTH's own Valerie June, kicks off the season with a search for two forgotten Mississippi blues singers during the height of the civil rights movement. In other stories this season, a Latina woman takes sanctuary in a North Carolina church to avoid deportation, a stalwart homeless community reels from the effects of development in Nashville, and in Texas, passionate voices protest a pipeline crossing Native lands.  
Below is the lineup of films airing this spring on PBS:
Episode #401 (April 11, 2019) Two Trains Runnin' by Sam Pollard
Set in Mississippi during the height of the civil rights movement, Two Trains Runnin' is about the search for two forgotten blues singers. Directed by Sam Pollard, narrated by Common, and featuring the music of Gary Clark Jr., the film was nominated for a Grammy, named a Critic's Pick of the New York Times and one of Rolling Stone's best music documentaries of 2017.
Episode #402 (April 18, 2019) A Texas Myth by Joseph Cashiola & David Fenster
Roughly 20 miles north of the US-Mexico Border in rural West Texas, activists at the Two Rivers camp battle against the same company that built the pipeline at Standing Rock.
Episode #403 (April 25, 2019) Fiesta Quinceañera by Rodrigo Dorfman & Peter Eversoll
Life for a Latinx immigrant family in the New South can be challenging and sometimes terrifying, but thankfully, there are still fiestas. ¡Fiesta Quinceañera! weaves the lives of three Latina girls and an LGBTQ activist as they celebrate their quinceañera, a complex and colorful rite of passage. 
Episode #404 (May 2, 2019) Gimme a Faith by Hao Zhang
Thousands of Chinese students arrive in the United States each year, often confronting loneliness and culture-clash upon arrival. Arriving in North Carolina to study filmmaking, Hao Zhang is surprised to find a unique community of Chinese students, connected by a newly discovered evangelical Christianity that is often at stark odds with their roots in China.  
Episode #405 (May 9, 2019) Part 1: Santuario by Pilar Timpane & Christine Delp
In Greensboro, North Carolina, a small church community offers sanctuary to Juana Tobar Ortega, a Guatemalan grandmother threatened with deportation after 25 years of living and working in the United States. 
Episode #405 (May 9, 2019) Part 2: Lumpkin, GA by Nicholas Manting Brewer
A fading Southern town struggling to survive a collapsed infrastructure and a high poverty rate lands a massive immigrant detention center down the road. Lumpkin, GA explores the community's dream of rebirth and the nightmare of familial separation.  
Episode #406 (May 16, 2019) The Well-Placed Weed by Cooper Sanchez & Steve Bransford
One of the most celebrated American garden designers of the past three decades, Ryan Gainey grew up in rural South Carolina, where he developed a deep love of plants from his relatives and neighbors. The Well-Placed Weed explores Gainey's life and his masterpiece—his 'garden of remembrance' in Decatur, Georgia, where his old friends and family live on in the overlapping blooms of heirloom plants. 
Episode #407 (May 23, 2019) Ingrid by Morrisa Maltz
Ingrid Gipson was a successful fashion designer who gave up her big city career for a reclusive life of solitude and unhindered creativity in Arkansas's rural Ouachita Mountains. This poetic film purposefully explores her current world as she lives off the land, works on her homestead, and makes art from natural materials.
Episode #408 (May 30, 2019) Saint Cloud Hill by Sean Clark & Jace Freeman
Recovered from crack addiction, Captain Chris rallies a colony of tent residents to defend their provisional homes against the forces of gentrification. Evolved from a docuseries about the underbelly of Nashville, Tennessee's growing prosperity, Saint Cloud Hill dives deep into the tragic personal experiences of a displaced community losing its last remnant of stability.
REEL SOUTH is a coproduction of UNC-TV Public Media North Carolina and South Carolina ETV, and produced in association with Alabama Public Television, Arkansas Educational Television Network, Georgia Public Broadcasting and Louisiana Public Broadcasting. Series funding is also provided by the Center for Asian American Media, the ETV Endowment of South Carolina, the National Endowment for the Arts and South Arts. REEL SOUTH Season 4 is distributed by PBS Plus and feeds Mondays, beginning April 8, 2019. Concurrently, the series will air nationally in prime time on WORLD Channel beginning Sunday April 14, 2019. For all showtimes, please check local listings. For more information, please visit reelsouth.org. 
About South Carolina ETV and Public Radio
​South Carolina ETV is the state's public educational broadcasting network. Using television, radio and diverse digital properties, ETV's mission is to enrich lives by educating children, informing and connecting citizens, celebrating our culture and environment and instilling the joy of learning. ETV currently presents A Chef's Life, Expeditions, Reel South, Yoga in Practice and Live from Charleston Music Hall on public television in addition to the national radio production, Chamber Music from Spoleto Festival USA.
ABOUT UNC-TV PUBLIC MEDIA NORTH CAROLINA
On air, online and in person, UNC-TV Public Media North Carolina connects North Carolinians to each other, the world and endless possibilities. Through its unique partnership of public investment and private support, the statewide network includes in-person engagement, digital-first social and online content delivery, and four over-the-air channels—UNC-TV PBS & More, the North Carolina Channel, Rootle 24/7 PBS KIDS and the Explorer Channel. Additionally, it provides emergency services support for the state and free educational services and resources for teachers. Visit unctv.org and join the conversation by connecting at facebook.com/publicmediaNC, instagram.com/publicmediaNC and @publicmediaNC on Twitter.
Category
Share