Little Satchmo is an intimate exploration of the iconic Louis Armstrong's life and legacy through his relationship with the daughter that the public never knew existed. Based on a revealing memoir written by Armstrong's silent daughter, the film seeks to correct a historical narrative relying on caricature for too long.
Little Satchmo kicks off the start of season 7. Before the premiere on April 11, we connected with the film's producer Lea Umberger to ask her a few highlights of the film.
The interview below has been edited and condensed for clarity.
What do you hope people learn from Little Satchmo?
Lea: We hope people learn from Little Satchmo not to judge from appearances, but to recognize that there is always more than meets the eye - on every stage, from the most public to the most personal. As in the case of Sharon's father, jazz icon Louis Armstrong, the human spirit cannot be accurately reduced to an archetype or statue, even if cast flawlessly in gold. No summation of historical or artistic records will ever recreate the full human being behind our immortalized American icon Louis Armstrong –– someone who through his art we all feel we know personally, whether, in fact, we do or not. In the case of Armstrong's daughter, Sharon's story is a halting reminder that one's heritage and identity are not always worn on the surface, that we can never claim to know who someone is until we find out ourselves, and ultimately, that every human being matters. 
What were the challenges you came across during the filmmaking process?
Lea: The big challenge during the creation of Little Satchmo was deciding on an approach to lift Sharon's voice, a voice urgently representing so many, without tearing down the world's love for her father. Fortunately, we feel this was ultimately very successfully achieved, with the film adding dimension to Armstrong rather than taking it away, but it was a constant effort to keep a close eye defensively on this risk. The solution was ultimately a nuanced effect of writing, directing, and editing, whereas to simply let Sharon's recounting of her life, in her voice, fully lead the narrative. The pandemic added additional strain on the production, with voiceover sessions recorded remotely, for example, but ultimately galvanized our artistic choice to embrace the isolation that is at the heart of Sharon's story.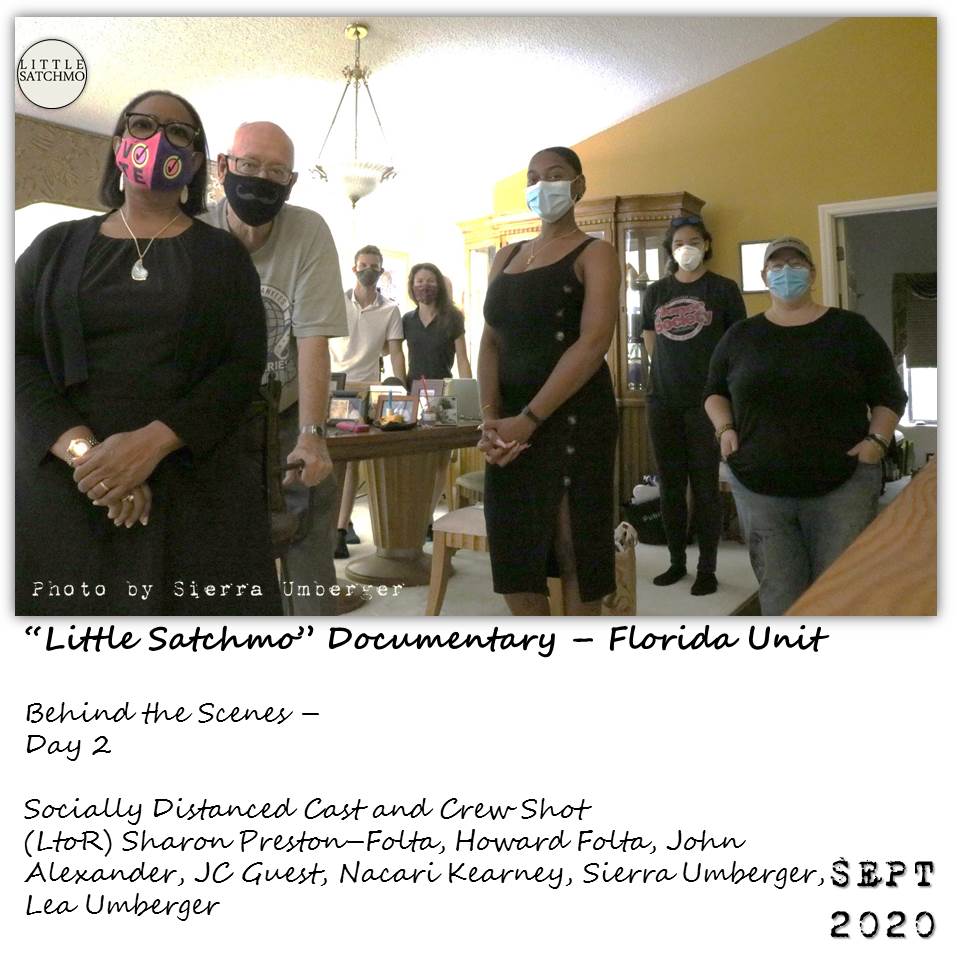 Was there any part you wish you captured for the film? Any behind-the-scenes moments to share?
Lea: We think the film makes the audience yearn for more, and we include ourselves in that! The whole film exudes a sense of withholding and emptiness, using at its crux the negative space more than anything else. This choice is of course by design to echo the hollowness Sharon and her father had felt, but it does have a palpable effect of leaving wanting more –– more of Sharon and more of Satchmo. It is remarkable that so much of the behind-the-scenes of this film unfolded in ways that were equally isolated and elusive, though, only a handful of in-person meetings, despite the mountains of phone calls, 'virtual' gatherings, and emails!
What is your personal favorite part of the film?
Lea: Hearing Sharon's voice as she reads the letters from her father, and ultimately her letter back to him in response, is a structural highlight as it opens a door to a never before seen side of Louis Armstrong, exposing the father-daughter relationship which despite being written in their very own words, was left painfully and poignantly excised from the public record. The segments of the film that take place in the home that Armstrong provided for Sharon and Sweets are another personal favorite. We are proud of how these sequences physically place the viewer into Sharon's first-person perspective as if they too are climbing up and down the stairs, listening for her father's phone calls, and looking out the window waiting for his arrival. They are wonderfully effective on audiences and were incredibly rewarding to conceive of and put together.
What life or career update can you share with us? 
Lea: The Little Satchmo Team is covering lots of ground, with an upcoming thriller feature film in pre-production for Casadelic Pictures (Alexander and Guest), various artistic pursuits through Creative Pinellas, Listen Up Film Series (Umberger) and music/film (Korvin, Rhodes), as well as a comprehensive donation of letters and memorabilia from her father to the Library of Congress (Preston-Folta).
Category
Share