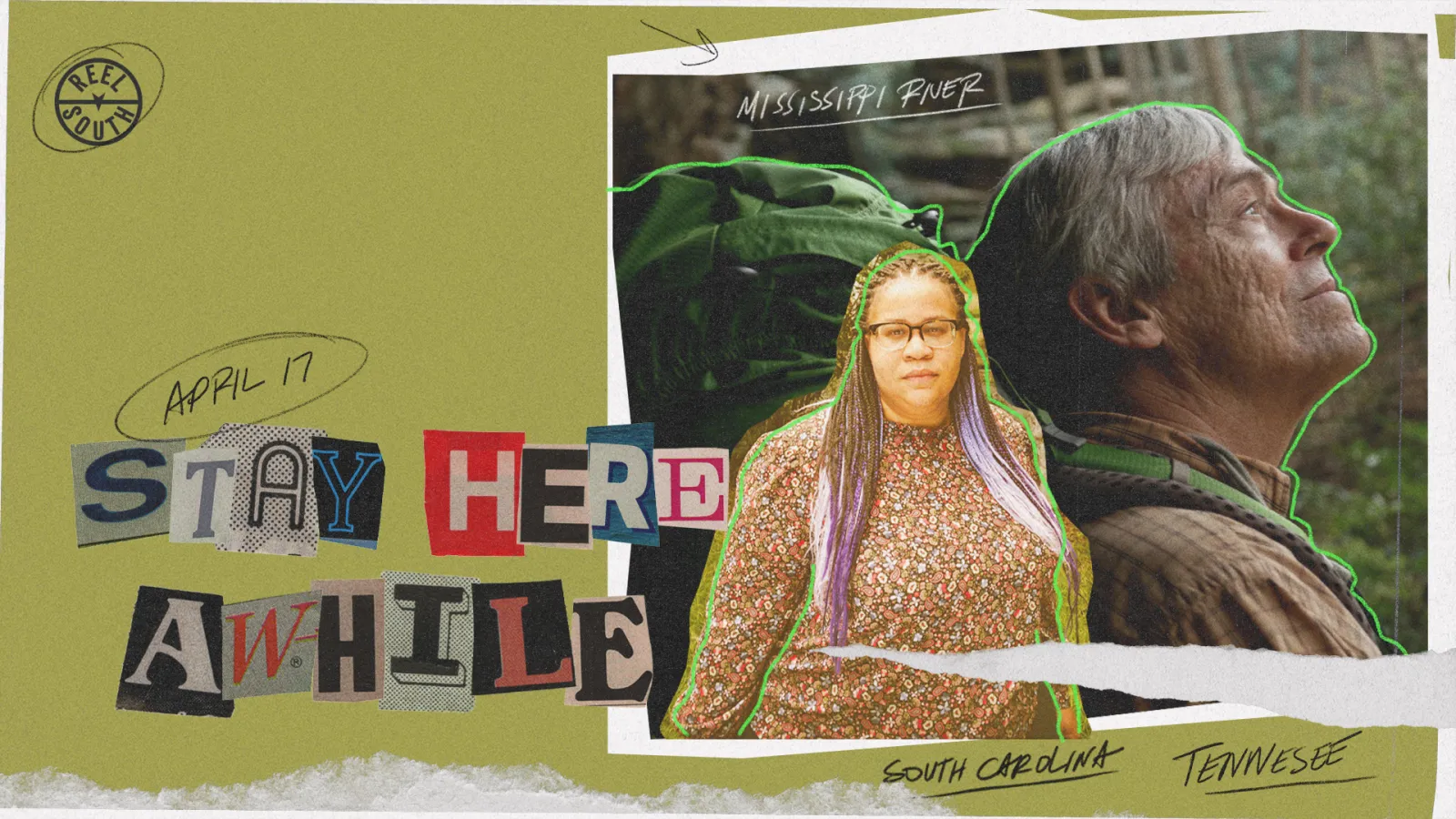 Filmmaker Interview: 'Stay Here Awhile' filmmakers highlight the intimate details of creating the poetic film
Apr 18, 2023
The second episode of Season 8, 'Stay Here Awhile' highlights the importance of Southern land for four people from different walks of life. Before the Reel South premiere, Reel South digital producer Heather Nunerley spoke to 'Stay Here Awhile' filmmakers Andrew Kornylak, Carlo Nasisse, and Luisa Santos to learn more about the intimate details of creating the film. Stream 'Stay Here Awhile' on PBS online today.
This transcript has been edited for clarity.
Heather: How did the film come about? With four different characters, how did you find them, and, aside from loving the South, are they connected in any way? 
AK: All three of us have spent a lot of time in the outdoors, for both work and play. Around early summer 2020, deep into the COVID Pandemic, we were struck by how millions of people began newly seeking comfort and healing, and much-needed joy in the outdoors. What's more, they were doing this close to home. We wanted to explore this idea, of the healing power of the landscape and geography of our "backyards," so to speak. Three of the four characters - Bobby, John, and Latria - were already known to us in some way or another. It became immediately obvious that their stories and deep connection to their landscapes shared a common thread. It wasn't going to be easy weaving them all together but I think we had faith in our instincts, which panned out as we delved deeper into each setting, like meeting River, for example. We also had a sense that this newfound connection to the land would be fleeting. The title, "Stay Here Awhile" invites us to linger in that time and space.
Carlo: Andrew and I have been friends and collaborators for many years. The film idea came about during our long conversations during covid lockdown. I had returned to where I grew up in Georgia and was thinking a lot about what this place and landscape meant to me. Everything in life at that moment felt so uncertain. There was this overwhelming sadness and loss that hung in the air. For the film, we wanted to take seriously the notion that landscapes are containers for memory, personal and social. We wanted to consider less about what humans do to the landscape, but more about what the landscape does to us. Everything else just came about so naturally that it seemed sort of meant to be. I learned so much from Latria, Bobby, Mark, and John. They are four distinctly beautiful human beings. I also think they all kind of understood the project immediately without us having to explain too much. Making the film felt like breathing. 
Heather: Your film is deeply poetic as it follows the four characters. Can you describe the creative process and how you landed on that editing style? We absolutely loved it!
Carlo: We were thinking a lot about quilting as a reference for how we wanted to structure and edit the film. There is something beautiful that happens when you tell a story through multiple stories/ individuals rather than with a single protagonist. You not only follow each person's journey but I think there is a greater space for reflection on the meanings and connections between disparate stories. I'm sure Luisa has a lot more to say about the editing as she really is responsible for the wonderful pacing and transitions in the film. 
Luisa: Thanks, that means a lot. The editing style is inspired, in some ways, by quilting. An important tradition in the South and something I grew up seeing my grandmother and great-aunt do in Costa Rica. When you quilt you stitch different types of fabric that don't necessarily match together, but when you look at the entire piece, there's a synergy between all of them. The movie felt like that. It was hard to make this work and we had many different versions. We moved scenes around, we played with transitions, and at many moments it felt like it didn't work… I remembered how my grandma moves pieces of fabric around before deciding on the final design for her quilts, sometimes she spends weeks doing this before she starts stitching. We did this with 'Stay Here Awhile.' Ultimately we found that the most important thing when transitioning from one character to another was that the emotional tone between the scenes was similar and this held the stories together. Then, we used the land as the main stitch for the film. Every scene ends and begins with the land. The montages of these different landscapes were used as a way to give the audience a moment of reflection after emotionally strong moments, but also as a place where our characters' pain could rest. We move from one story to another by physically traveling through these beautiful and evocative southern landscapes. 
Heather: Do you have any updates to share about the four subjects that you can share with us?
AK, Carlo, Luisa: Just before we filmed with Bobby, he had won a National Heritage Fellowship - the nation's highest honor in folk and traditional arts - from the National Endowment for the Arts, for his 40 years of work documenting traditional music and lives in Tennessee. Of course, he never mentioned this and we didn't find this out until very recently (https://www.arts.gov/honors/heritage/bob-fulcher). Though he's taken a step back from his duties as a park ranger, his other life's work, The Cumberland Trail, is coming very close to completion as a Tennessee State Park. Latria Graham - now a regular columnist for Garden & Gun Magazine, is working on a memoir, "Uneven Ground," about preserving her 100-year-old farm and family legacy in South Carolina. She joined the University of Montana as the 2022 Kittredge Distinguished Writer in Environmental Studies. John Ruskey and Mark "River" Peoples continue their deep exploration and conservation of the Big Muddy.
Heather: What are you working on next? Anything cool to share? 
AK: I'm working on my first book. 
Carlo: Luisa and I just premiered a short film we wrote and directed together called, "Direcciones" which is about addresses in Costa Rica. I just started my first year as an MFA student in Stanford's Documentary Film and Video program so I am a student again!
Luisa: I am working on a couple of Latin American projects as an editor. I am collaborating with filmmakers that I deeply respect like Amada Torruella, Seth Gadsen, Gerardo del Valle, and Kristal Sotomayor. I am also finishing a film I directed about a dog, a dog that I really love. 
Heather: After watching your film, what do you hope resonates with the Reel South audience? 
Carlo: I hope it gives people a space to reflect on their own relationship to place, whether that is where they live now or where they are from. We tried to capture some of the ways in which this region requires one to hold beauty and darkness close to one another. To never lose sight of either one. 
Heather: Can you each tell us your favorite part of the film?
Andrew: I was very moved by listening to John's story of his wreck on the Mississippi as a young man as the rain fell around us in the wilds of the river. That sandbar is a special place. I felt like that scene was an emotional turning point in the film, the beginning of healing.
Carlo: My favorite part of the film… it's hard to say as everything is so close to my heart. Perhaps Latria's writing at the end of the film. We wouldn't have been able to make this without her. She is an inspiring figure for me and has been a friend over the years who has expanded my way of thinking. I also loved spending time with Bobby in those amazing sandstone caves. Hearing the banjo, his soft voice ruminating on the land, his encyclopedic knowledge of old tunes… It was a special time that I will always cherish. 
Luisa: I love Latria's writing too. She is getting her first book published soon, so look out! Go buy it! She's a brilliant writer. But I think my favorite part of the film is Mark Rivers fishing and talking about his mom. It's such a contemplative moment, listening to the river move while Mark talks. Also, it reminds me to never take my amazing mother for granted, even though I still sometimes do, sorry Ma. 
--
About the Filmmakers:
Andrew Kornylak took up both photography and rock climbing in college, and his award-winning 25-year career in commercial and editorial photography and film has since been informed by the drama of landscape and the character of people who linger on the fringes.
Carlo Nasisse is a director, photographer, and cinematographer pursuing long-form projects that explore regional culture, ecology, and the relationships between humans, landscape, and politics.
Maria Luisa Santos is a Costa Rican-Cuban filmmaker and writer. She writes stories and makes films dealing with immigration, personal loss, and family. Luisa is interested in the connections between one's internal life and the natural world, and she expresses subjective, unknowable experiences through description of landscape.
Category
Share