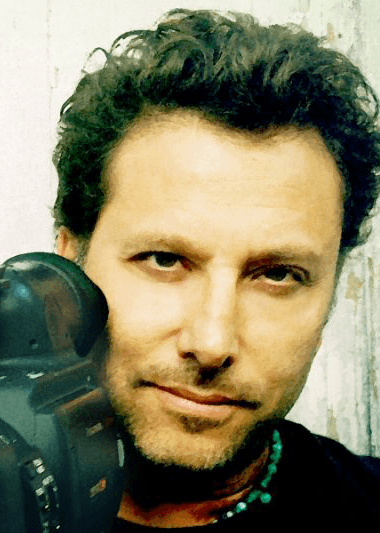 Durham, North Carolina-based filmmaker, Rodrigo Dorfman, talks about his new film ¡Fiesta! Quinceañera and documenting the Latinx families across the South.

What inspired you to make this film? 
We are an unusual team: a Chilean-American born into exile, constantly whirling between the identities that bind all the different places, people, languages and cultures he has inhabited since he left Chile in 1973 and a Gringo who came of age in Mexico as a painter and a dairy farmer. We have made our home in the Nuevo South of North Carolina where massive immigration shifts have brought Latin America to our doorstep and with it an explosion of hybrid cultures flush with unexpected sensations and experiences.

Our inspiration is the spirit of humanity and the poetic beauty of resistance found in the immigrant community that you don't often see in the headlines. Furthermore, we are interested in showing how cultural resistance is a powerful weapon in the fight for immigrant rights. After having spent several months with many wonderful and vibrant families, we learned that the strength and dignity of community and culture is rooted in family and small business owners, musicians and dressmakers, choreographers, caterers and the fiestas that help us get through the long night. Yes, even though "the border" is now everywhere, these stories remind us that a world without borders is possible.

What makes this a Southern story?
First of all, our film is about tradition, family, community and faith. What's more Southern than that? Over the last 20 years, the South has been a destination for immigrants from Latin America; North Carolina has the fastest growing Latinx population per capita in the U.S. Much of the economic growth of the South during this time has been on the backs of Latinx. The quinceañeras in our film are the first generation born to these immigrant families and represent a hybrid of Southern culture and the Global South. This identity in-flux we call the Nuevo South, an intersection of Southern US and Latinx traditions.

What were the challenges and blessings in making this movie?
Following multiple families as they plan and execute perhaps the biggest event of their lives involves a lot of moving parts. It was a challenge to stay focused on the subtleties of these young women's personal and cultural experiences while the politics of immigration became ground zero during the 2016 presidential campaign.

This film is based on a digital mini-series commissioned by ITVS Indie Lens/Storycast. It was made for streaming in seven-minute episodes. Short web based format storytelling has a very specific aesthetic and rhythm. Also, in keeping with the hybrid nature of the stories we were telling, we wanted to also create a hybrid experiment in narrative mixing the fast paced, fragmented short attention span aesthetics of digital web based storytelling with longer made for TV format of emotional arcs and storylines.

We were blessed by being able to spend time and connect with such beautiful people during an important milestone in their lives. We were also fortunate to work with some amazing and talented collaborators, principally Alejandro Santoyo, our composer, artist Rosalia Torres-Weiner, who did our graphic design and Oscar Garcia Cervantes, "La Pakis", our guide and muse through the world of quinceañeras.

How did the story change you?
We (Rodrigo Dorfman and Peter Eversoll) have always worked independently as separate, one-man productions. New technologies allowed us to be our own film crew and post-production studio as we traveled through the Nuevo South documenting stories of migrant communities. It's been exhilarating. And, also a curse. There's only so much you can do by yourself. This project not only allowed us to join forces but also hire and collaborate with another editor, a composer and a graphic designer. Fiesta! changed our way of approaching the documentary art for the better.

What do you hope will happen after people see this story?
In a general sense, we hope to educate folks on this rich and beautiful tradition and to show that a quinceañera is more than just a party; it is an enormous web of social relations that bring together tradition, culture, family, community and small business. In digging past the sensational headlines that often frame immigrant communities, we hope that people come away with a little more understanding and curiosity about their immigrant neighbors.

See Dorfman's other Reel South film, Tommy, online at reelsouth.org.
Category
Share