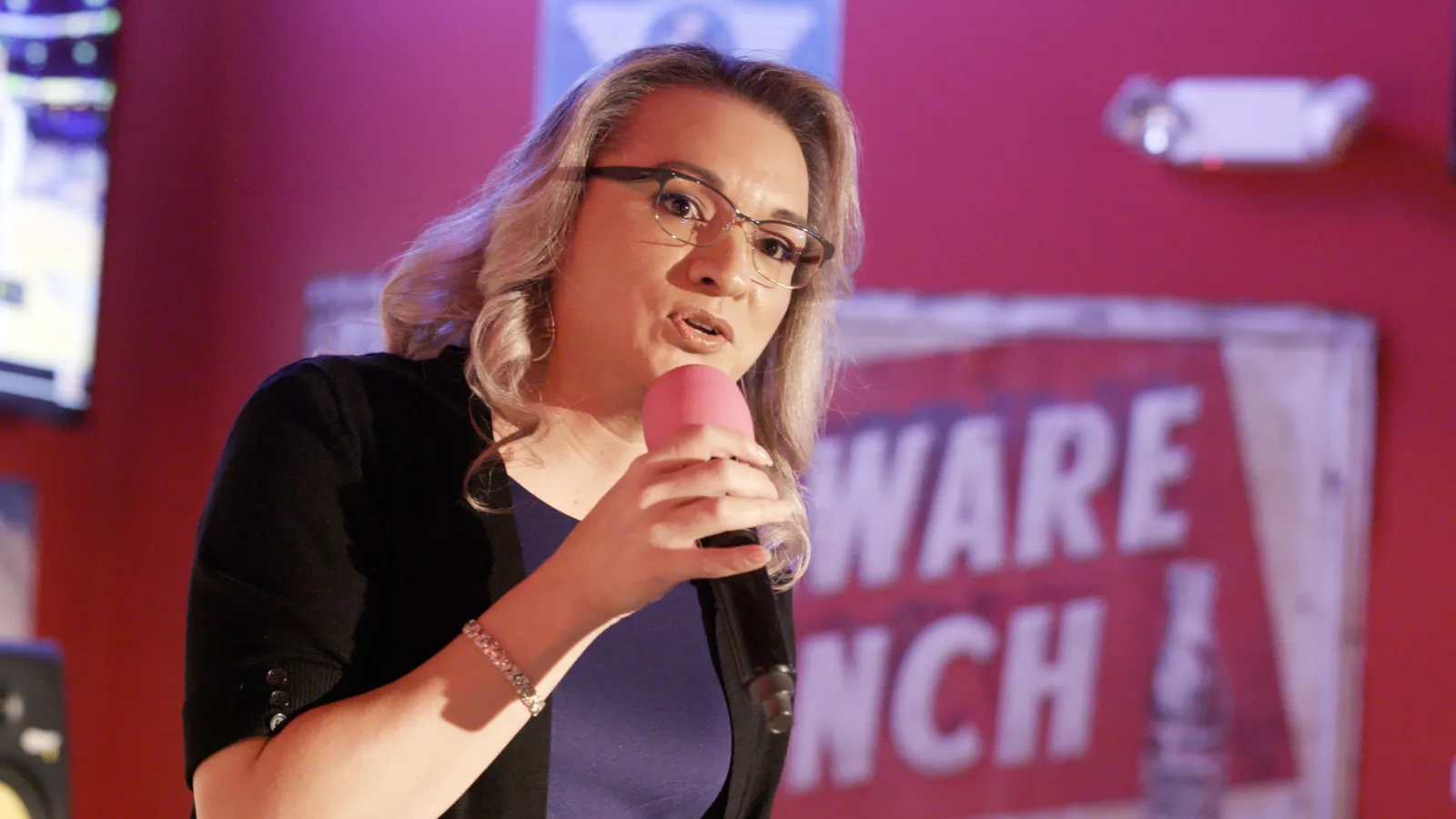 Filmmaker Feature: 'A Run for More' creator Ray Whitehouse shares how Frankie Gonzales-Wolfe inspires
May 18, 2023
Growing up, Frankie Gonzales-Wolfe learned to be a fighter but never imagined having a chance to make history as the first openly elected transgender official in Texas. Unfolding amidst an onslaught of legal attacks against the trans community, 'A Run for More' immerses viewers in Frankie's journey as she finds her voice, questions her relationship with the community, and tries to win an election. Before the Reel South premiere of 'A Run for More,' digital producer Heather Nunerley linked up with the filmmaker Ray Whitehouse to get an understanding of how he created the film and updates on the main characters and himself. Stream 'A Run for More' today!This interview has been edited for clarity and length.
Heather: How did the film come about? How did you meet Frankie?
Ray: I think campaign volunteers are amazing people. They do difficult work, including knocking on doors and phone banking, for free because they tend to believe that their efforts might make a difference and help their preferred candidate get elected. It's inspiring to see people keep showing up to volunteer election after election, especially when another candidate often wins. I had previously made a short documentary film about campaign volunteers during the 2016 Iowa caucuses and wanted to make another film about a campaign volunteer.
I was living in San Antonio in 2016 so I visited the local Hillary Clinton office and asked a campaign organizer if there were any campaign volunteers who might be willing to speak with me about volunteering. The campaign organizer recommended I connect with Frankie and we hit it off immediately. Frankie and I got to know each other better while I was filming at the campaign office and I filmed a few things outside of volunteering that were really important to her: her high school reunion, her wedding, and election night 2016. At that point, I thought that the filming was over and Frankie and I stayed in touch as friends. In 2018, Frankie called me and let me know that she was thinking about running for office. I asked her if I might be able to film some of her campaign and she said yes. This film grew out of the friendship that Frankie and I had developed between 2016 and 2018 and I feel grateful that she trusted me to make a film about this pivotal period in her life.
Heather: Can you describe the creative process and how you landed on your editing style?
Ray: My approach to the creative process during filming was to be immersed in Frankie's life as much as possible. I lived at Frankie and Jeff's house for the month before Frankie's election and it was a remarkable experience. I filmed things that could not have been filmed had I taken a different creative approach. The level of intimacy was high and this helped break past the top layer of the narrative around Frankie's attempt to win office and I got into the more interesting emotional territory of Frankie's personal journey that unfolded during her campaign. It took trust and time, but the rapport we built led us into more interesting territory. 
The biggest creative challenge of making this film was filming without exactly knowing what was going to be used in the final edit. I did not direct Frankie. I followed her lead as she went about the campaign. There were many times of uncertainty about how the film would emerge and accepting the uncertainty was often a challenge. One secondary challenge was always being ready to film when I was with Frankie. You could never predict when she had a joke or a memorable line.
Once filming was over and we were editing the film, the editing style emerged slowly. I owe a huge debt of gratitude to the film's editor, Katrina De Vera. We spent many many hours on the phone discussing how to shape the edit and the storyline and she brought a high level of creativity and technical skill to the process. We knew the film was going to revolve around the narrative of the election but we didn't know how we were going to get from her announcement to election night. We had more than 100 hours of footage and infinite choices on how to put it together. The film really emerged as we reviewed the material and deliberated on what we were both seeing. 
Three prominent threads emerged from the edit. One was the way that trauma had informed how Frankie had stayed away from different parts of her community. Another was Frankie's unexpected realization that her previous campaign volunteer experience was not applicable to her own campaign because she had never worked for a transgender candidate. Lastly, we observed that Frankie's view of herself as a transgender educator had evolved into a transgender activist by the end of the film.
Along the way, we shared cuts at various stages of completion and did individual feedback sessions with more than 50 people. These feedback sessions were invaluable because the feedback helped us improve the edit and also be more secure in our editorial choices. 
Heather: Do you have any updates to share about Frankie that you can share with us?
In 2020, Frankie served as the campaign manager for Rebeca Clay Flores, who ran for a county position in Bexar County, where San Antonio is located. Clay Flores won her election and selected Frankie as her chief of staff. Frankie became the first openly transgender chief of staff in Texas.  
Heather: What are you working on next? Anything cool to share?
​​​​​​​Ray: I'm continuing my work in journalism and documentary film as a cameraperson, director of photography, and (occasionally) director. It's been a privilege to collaborate with a lot of awesome film teams and I hope to do more of that in the future. Here are a few recent films that I've worked on in various capacities:
To The End, directed by Rachel Lears
Praying for Armageddon, directed by Tonje Schei
Flight / Risk, directed by Omar Mullick and Karim Amer
Breaking the News, directed by Princess Hairston, Chelsea Hernandez and Heather Courtney
The New Americans, directed by Ondi Timoner
Bring Them Home, co-directed by me and Kate Woodsome
Heather: After watching your film, what do you hope resonates with the Reel South audience?
​​​​​​​Ray: On a basic level, 'A Run for More' is about more than one race – it's about working towards a world where people who are shut out of our democracy can reclaim their voices, build collective power, and create the conditions to thrive. I hope through the specificity of the film, audiences resonate with and reflect on these more universal ideas. 
Heather: Can you tell us your favorite part of the film?
​​​​​​​Ray: The final scene of the film in which Frankie performs a spoken word piece is definitely my favorite part of 'A Run for More.' I won't write anything that could be construed as a spoiler, but suffice it to say I find Frankie's evolution as a person so compelling and the last scene really highlights how she has changed. The scene is also an awesome distillation of Frankie's personality: she is passionate, charismatic, and tenacious. I've watched the end hundreds of times and it still carries an emotional weight – there's something special about seeing Frankie be proud of who she is despite all the challenges she faced. 
Even before we added music to the film, I knew the spoken word scene was going to be powerful. However, composer Nicolas Repetto and his colleague Christopher Bynum Harris really elevated this scene with their fantastic work on the score. The marrying of sound and picture really enhanced my emotional response to the scene. You can listen "I Am Trans Visible" on Spotify and the whole film soundtrack on Apply Music.
Category
Share